The purpose of many mergers and acquisitions is to boost the efficiency of the merging organizations. You may find that the work of untangling multiple foundations inherited as a result of consolidation can unearth other key considerations.
To consolidate or not? It may seem easiest and, yes, most efficient to consolidate foundations. But it's important not to be hasty. Each foundation may play a specific role in your organization's fundraising strategy.
Hospitals usually take one of three approaches to managing foundations following a merger or an acquisition:
The parent model in a hospital system uses one central foundation to represent all regional facilities. This model tends to be more cost- effective, as the foundation can be centrally staffed. It also offers consistency in marketing strategy and underlying investments. The major downside of the parent model is that local donors tend to worry their donations will cease to benefit their immediate community.
The local model keeps foundations separate, so that they retain their original names and their own administrative and investment management. This tends to be better received by donors. But this approach brings the headaches of overlapping staff, inconsistent messaging and possibly the financial inefficiencies related to having a variety of different investment managers overseeing each pool of money.
The hybrid model can contain elements of a parent and local model. It keeps open the possibility of maintaining local names for fundraising purposes, while realizing the efficiencies of central administration.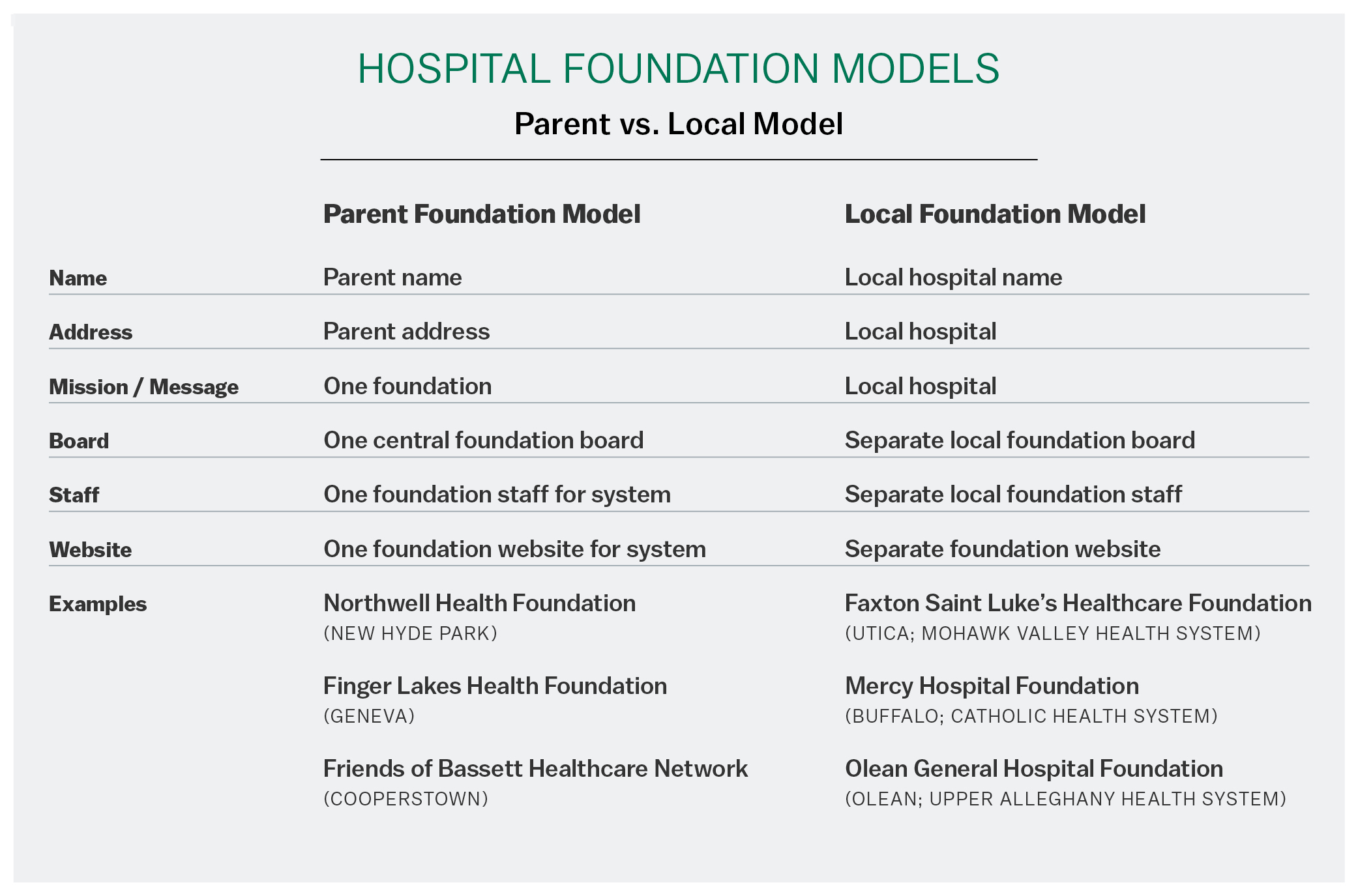 Thoughtful collaboration is key You'll ultimately have many stakeholders to satisfy, and the decision to go with one model over another will most likely be the work of a quorum rather than one individual. The conversations may get dicey, and there won't always be a way to honor every opinion about which foundation model is right for your organization. However, you can be the one to point out the key issues and make suggestions that are clearly in line with your organization's best interests.
If you're looking for an elegant solution to the complexities of overseeing separate foundations, we're ready to help.
Disclosures
This article is for informational purposes only. It is not designed or intended to provide financial, tax, legal, investment, accounting, or other professional advice since such advice always requires consideration of individual circumstances. Please consult with the professionals of your choice to discuss your situation.