In the property & casualty insurance industry, price, terms and conditions as well as the availability of coverage and capacity are all impacted by fluctuations between soft and hard markets. As of Q3 2020, the business insurance market had been considered soft for nearly 15 years but is now trending towards a hard market.
During a soft market competition is fierce and premiums are stable or declining. To maintain and/or gain market share, many insurers relax their underwriting guidelines and lower their rates on exposure. This allows agents and brokers to negotiate more favorable coverage terms for insureds. Broad coverage is more widely available with some extensions included without additional premium.
Factors contributing to a soft market may include:
Active, growing economy
Positive interest rate environment
Low/favorable claims activity
Abundant capital to insure
Strong policy holder surplus
A hard insurance market is the upswing in a market cycle when insurance premium rates are escalating, and insurers are disinclined to negotiate terms. Underwriting standards tighten and insurers closely monitor insurance rates and manage coverage capacity.
There are several factors that impact an insurer's approach to providing coverage. These factors heavily influence the insurance market cycle.
Factors contributing to a hard market may include:
Economic downturn/uncertainty
Financial Market volatility
Shrinking insurance capital/Decreased competition
Catastrophic events / Increased claim activity
Global events (e.g., pandemic, climate change, etc.)
Catastrophic losses caused by natural disasters like hurricanes, earthquakes, and wild fires can generate huge property insurance claims. Other events may lead to increased claim trends impacting other lines of business such as COVID-19, large litigation payouts, or increase distracted driving incidents.
General economic conditions can also affect a carrier's ability to write new policies. During an economic downturn, businesses may purchase less coverage or have lower exposures. Companies may experience a decrease in revenue and implement layoffs causing a decrease in premium to the carrier. In addition, this environment generally yields low-interest rates, which reduce insurers' investment income.
When the market begins to harden, it is critically important to have a strong insurance broker on your side. They will be able to help you to: assess appropriate coverage levels for your business, review claims history, identify optimal carrier partnerships, and implement risk management and training programs. As an added value, they can also create a marketing strategy that would help mitigate the impact of the hard market conditions so that you are able to retain current terms and conditions while managing any potential premium increases.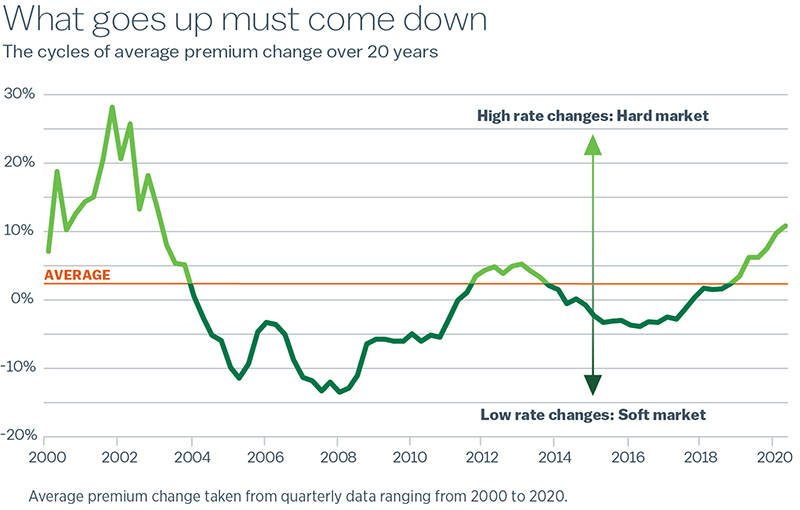 For more information or to speak with an insurance specialist, call 1-800-716-8314.
---
Disclosures:
This article is for informational purposes only. It is not designed or intended to provide financial, tax, legal, investment, accounting, or other professional advice since such advice always requires consideration of individual circumstances. Please consult with the professionals of your choice to discuss your situation.
M&T Insurance Agency ("MTIA") is a wholly owned subsidiary of M&T Bank.
Insurance Products offered are: Not FDIC insured; Not a deposit in, obligation of, nor insured by any federal government agency; Not guaranteed or underwritten by the bank; Not a condition to the provisions or terms of any banking service or activity. Insurance products are offered by M&T Insurance Agency, Inc., not by M&T Bank.
Insurance policies are obligations of the insurers that issue the policies.