How will the new tax law impact real estate developers?
Even as we look toward a business cycle expected to continue at a modest to flat pace compared with 2017, real estate developers, investors and owners are nonetheless searching for ways to realize greater returns on investments. The good news is that commercial real estate (CRE) developers will likely benefit from the changes to the tax code in the 2017 Tax Cuts and Jobs Act.
The law has lowered most pass-through (business income taxes paid by individual business owners on personal tax returns to pay taxes on business income) and corporate tax liabilities and may even serve to spur demand for multifamily projects and rentals.1 For developers to make the most of these opportunities, strategic planning of short- and longer-term financing strategies is essential.
The Outlook Is Optimistic
Almost two-thirds of CRE businesses based in the United States are structured as pass-through entities so they're now able to take the 20 percent deduction on pass-through income afforded by the new law.2 While the full effects of tax reform vary from state to state, the federal implications alone spell opportunity.
Corporate tax reductions in the law incentivize commercial real estate activity, encouraging various new projects from breaking ground to filling rental spaces. Demand for rental properties may even increase as individuals and families weigh the financial ramifications of the new standard deductions, limits to mortgage interest deductions, and state and local tax deductions.2
Banking Strategies for Multifamily Developers
A range of short- and long-term financing solutions can help address market risks, especially in a rising interest rate environment. By understanding the features and limitations of each opportunity, developers may be able to take the fullest advantage of flexible financing strategies. This is especially critical in a rising rate environment.
Short-Term Strategies
In initial development phases, effective short-term financing strategies include interest rate caps and interest rate swap contracts on variable rate loans. Both offer near-term flexibility and are most often priced for periods of six months to two years.
Developers might want to consider hedging interest rate volatility by purchasing an interest rate cap based on an expected drawdown schedule. This approach pays the borrower each time the agreed rate (such as LIBOR) exceeds the cap. It can also enable more flexible management of drawdowns and potential payments from interest rate differentials.
For construction loans, an interest rate swap contract may be used to manage interest rate risk by matching the size of the swap with the construction loan's drawdown schedule. This structure enables the borrower to create a fixed rate loan that still allows flexibility in terms of operating considerations.
For example, there are no prepayment penalties for yield maintenance associated with a variable rate loan with a swap. These financial tools allow developers to stay in control and potentially adapt cash flow to interest rate variability in a dynamic market.
Hedging Interest Rate Risk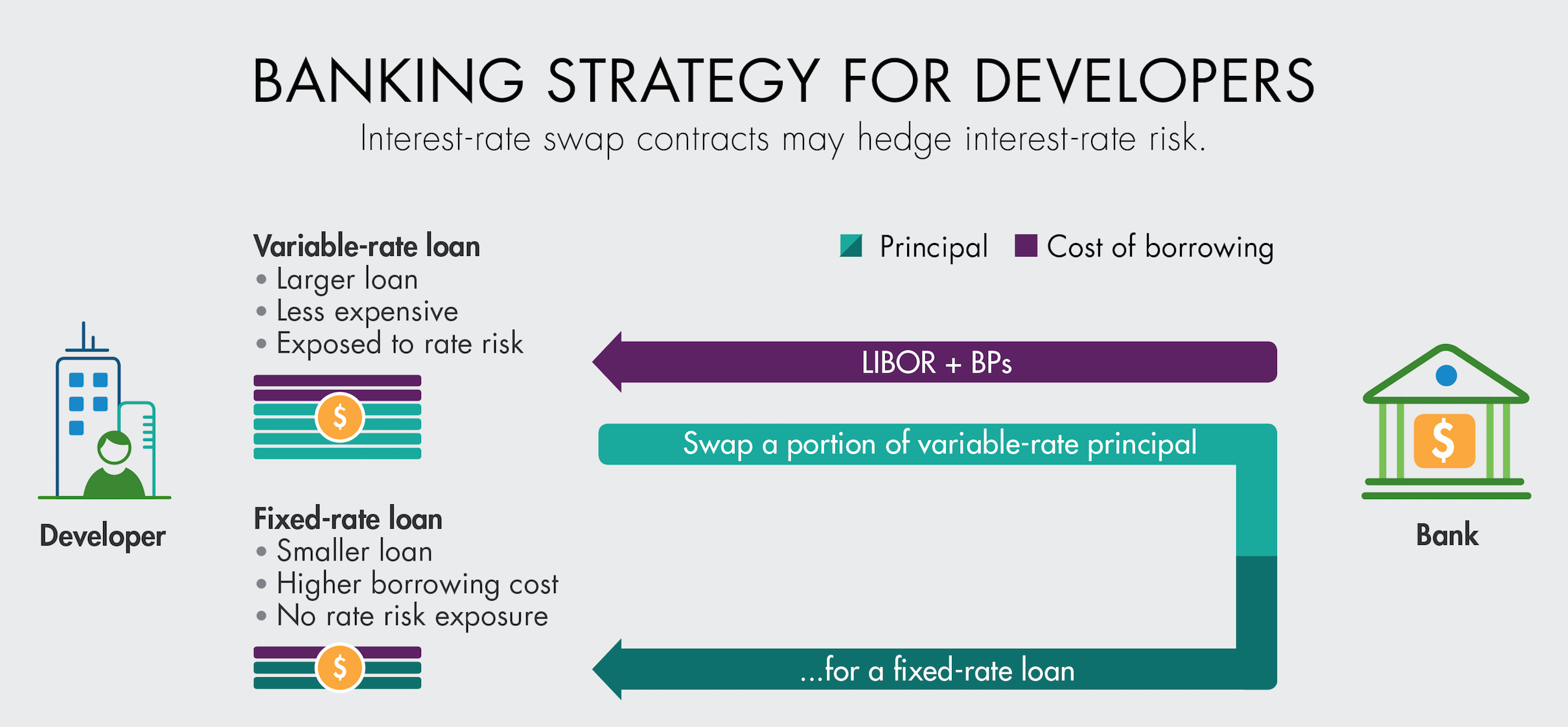 Longer-Term Financing Options
Traditionally, CRE developers plan loans to feed cash flow over four to five years and then refinance in the last year of the loan to sidestep the balloon payment. For longer-term needs, developers might consider establishing a takeout financing commitment with lenders. These commitments help lock in longer-term financing.
Multifamily development is federally supported through Fannie Mae and Freddie Mac. Developers have the option of working with a lender like M&T, whose wholly-owned subsidiary, M&T Realty Capital Corporation®, is a Fannie Mae Delegated Underwriting and Servicing lender and a Freddie Mac Multifamily Approved Seller/Servicer.
These or similarly designated programs can provide stable, long-term financing in the form of 10- to 15-year loans. The cost of these loans is usually lower, since the government-sponsored enterprises ultimately purchase the loan from the original issuing bank. However, not every commercial project qualifies for this kind of financing, which is limited to multifamily properties. This includes market-rate apartments, affordable housing, independent living or assisted living seniors housing, and student housing.
Explore the Possibilities
CRE developers face multiple challenges in the current macroeconomic environment, from the new tax considerations to a rising rate environment and complex supply-and-demand dynamics. The available banking solutions are just as numerous.
Given the many custom options, it makes sense to have a conversation with a trusted financial advisor about how CRE developers can make the most of the tax changes and the opportunities in the market just ahead.
Disclosures
1 ​"Tax Cuts and Jobs Act: CRE Implications," M&T Bank, February 2018.
2 "The Great Tax Race," Cushman & Wakefield, January 2018.
This article is for informational purposes only. It is not designed or intended to provide financial, tax, legal, investment, accounting, or other professional advice since such advice always requires consideration of individual circumstances. Please consult with the professionals of your choice to discuss your situation.